I'm not a big fan of tattoos, but I have to say that I would love to write on my body a sentence from a poem written by the greek Arkilochus (he was born around the 648 a.C). It is one of the most intense, deep, extraordinary poem I've ever read. It's like a warning to me.
This is all the poem in ancient greek:
θυμέ, θύμ᾽ ἀμηχάνοισι κήδεσιν κυκώμενε,




ἄνα δέ, δυσμενέων δ᾽ ἀλέξευ προσβαλὼν ἐναντίον




στέρνον, ἐν δοκοῖσιν ἐχθρῶν πλησίον κατασταθείς




ἀσφαλέως· καὶ μήτε νικῶν ἀμφαδὴν ἀγάλλεο




μηδὲ νικηθεὶς ἐν οἴκωι καταπεσὼν ὀδύρεο.


ἀλλὰ χαρτοῖσίν τε χαῖρε καὶ κακοῖσιν ἀσχάλα
μὴ λίην· γίνωσκε δ᾽ οἷος ῥυσμὸς ἀνθρώπους ἔχει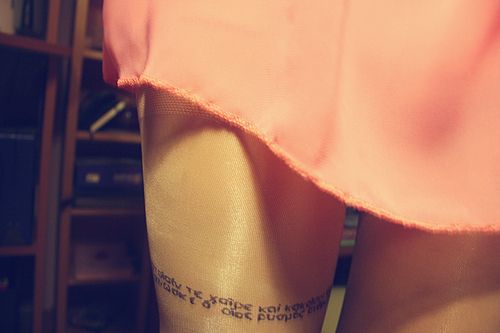 Heart, my heart, so battered with misfortune far beyond your strength,
up, and face the men who hate us. Bare your chest to the assault
of the enemy, and fight them off. Stand fast among the beamlike spears.
Give no ground; and if you beat them, do not brag in open show,
nor, if they beat you, run home and lie down on your bed and cry.
Keep some measure in the joy you take in luck, and the degree you
give way to sorrow. All our life is up-and-down like this.


trans. R. Lattimore
But getting tattooed hurts and it's too much expensive. So, this is my version of tattoo tights by
Urban Threads
It does look real!
Restyle our old tights/pantyhose with beautiful design that looks like tattoed on your legs!
What you'll need
Design
Textile Marker
Tights (works better with transparent and fine pantyhose)
Chalk
Print your design (I print different sizes of the same sentence to see what look better)
Turn your paper sheet into a cylinder-shaped object to recreate your leg width and secure with tape
Wear your tights and make a sign with a chalk where you want your design to be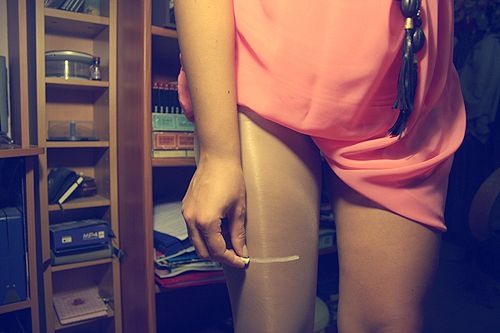 Put the cylinder-shaped sheet inside your tight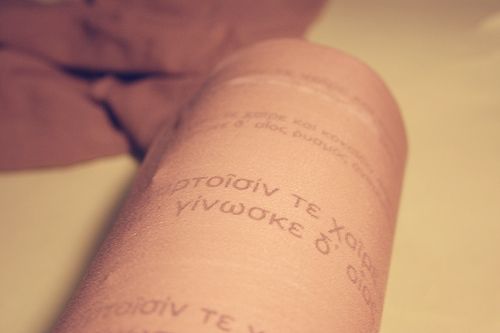 Then, with the textile marker copy your design
You're done! Beautiful, funny and supereasy (; If you love tattoo but don't have enough courage to make one, or simply don't want to have it forever, you'll love this! At least, i hope so (: